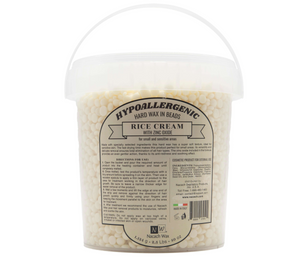 Premiere Salon and Nail Supplies
NACACH RICE CREAM HYPOALLERGENIC HARD WAX 2.5lbs
Regular price
$485.00
$0.00
Unit price
per
This truly innovative multidirectional hair removal creamy hard wax, enriched with titanium oxide is perfect for sensitive skin and can be used on all areas of the body, having a medium drying time (less than 10 seconds). Despite its gentle formulation, this hard wax can be applied in long strips without the risk of breaking. It also has zinc oxide to soothe the skin and reduce redness, ensuring that your clients leave feeling great. This hypoallergenic wax is also Colophonium-Free.

INSTRUCTIONS
Open the bucket, grab and pour the required amount of beads (product) into a warmer and wait for wax to melt completely
Once melted and displaying heavy consistency, test the product's temperature on the underside of your forearm.
Apply a thin layer of the product building an edge at one end, once dry(usually the product loses its shiny look, or becomes dull) pull against the direction of the hair growth firmly using your fingers in a quick motion, staying as close to the skin as possible.
After treatment we recommend applying any Nacach Post depilatory treatments or products.
---