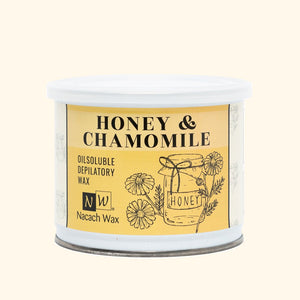 Premiere Salon and Nail Supplies
NACACH HONEY AND CHAMOMILE WAX 14oz
Regular price
$110.00
$0.00
Unit price
per
Made with natural chamomile and honey extracts, our Honey and Chamomile formula provides flawless soft wax hair removal. Enriched with a natural herbal scent and soothing ingredients, this soft wax is perfect for all types of skin. This natural soft wax is ideal for short hair. Moreover, its natural formulation and low melting point help reduce redness and overall discomfort. Professionals can now provide their clients with a memorable and soothing waxing experience.
Chamomile benefits for skin include reducing manifestations of premature aging such as wrinkles and freckles. These types of signs emerge when the skin is constantly exposed to damaging environmental elements such as pollution, smoking, and ultraviolet rays. 
Imported from Italy, Nacach soft waxes are perfect for your chest, back, legs, and other large areas of your body. Formulated with the finest, naturally-occurring ingredients, this honey and chamomile wax will provide the best soft wax hair removal experience for your clientele. 
---